Micro-Credentials
17 July 2023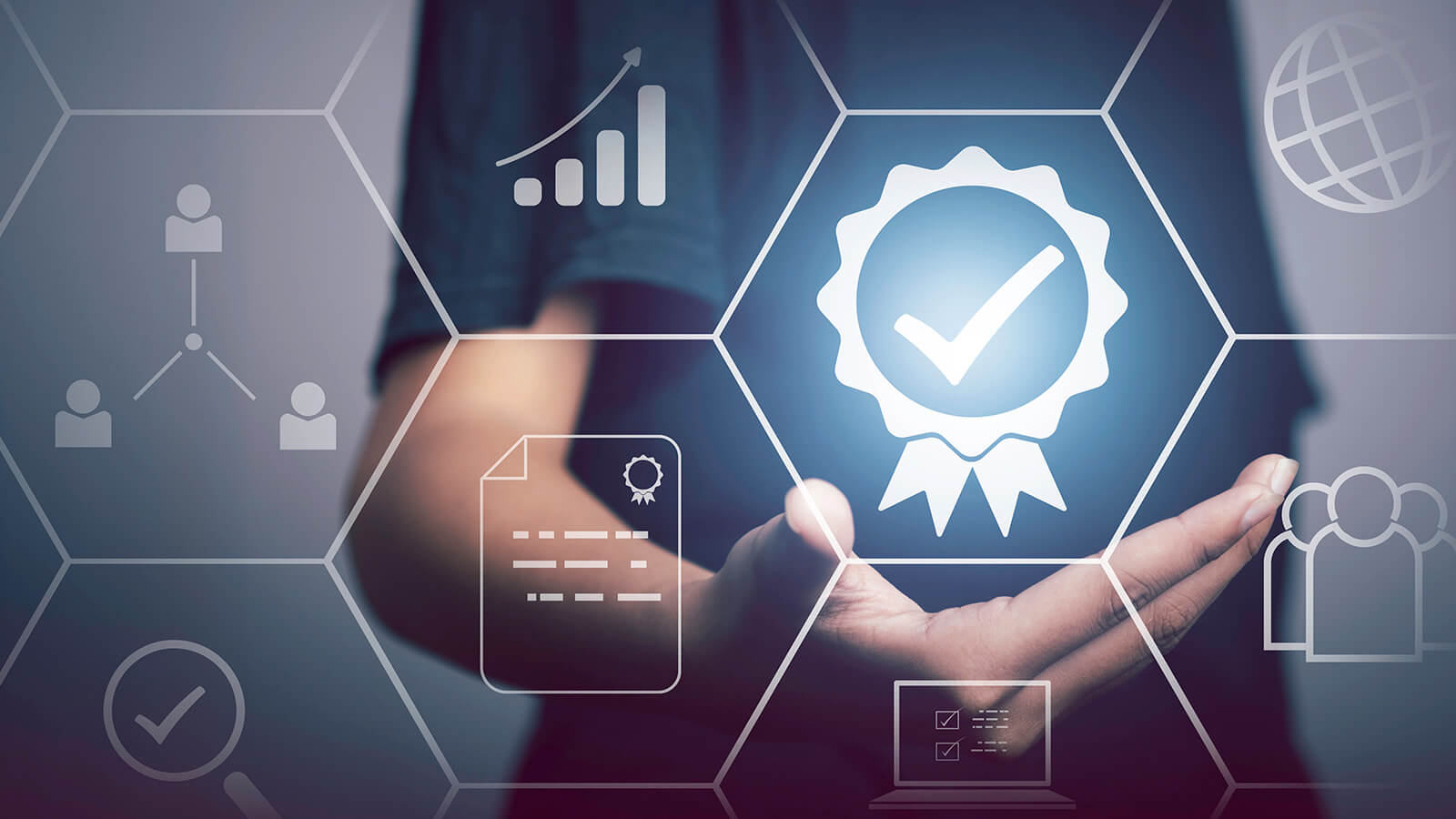 Micro-credentials are emerging as the future of professional-level qualifications, but how frequently are they being utilised by organisations?
At Kaplan Assessments, we recognise the crucial role that well-designed and tailored qualifications play in forming competent professionals and continually maintaining standards, especially in high-stakes sectors. If anything, today's talent shortage highlights the need for employers to not only fill job vacancies but hire the right kind of people, with the specific skill sets required.
That's where micro-credentials come in.
As a more versatile form of qualification, micro-credentials can be tailored towards the latest developments in your sector, ensuring that relevant and in-demand competencies are being tested. They offer that much-needed specificity, whilst providing a flexible qualification that is accessible to a wider pool of candidates.
However, despite their appeal, employers have been slow or even reluctant to adopt micro-credentials. Surprisingly, a recent survey conducted by Holon IQ revealed that nearly 1 in 5 education institutions indicated that micro-credentials are still non-existent within the workplace.
So, what are the barriers? Finding a micro-credential that is relevant and fit for purpose for your organisation can be tricky. Equally, finding a micro-credential that actually proves competency is also a challenge. In many instances, micro-credentials lack the rigour that a qualification affords due to minimal assessment of knowledge and practical application. And with credentials in many countries remaining unregulated, the more important consistency in assessment methodology becomes. This makes having a framework of taxonomy and adequate quality assurance in place essential.
We offer a solution that is both quality assured and built around you. In partnership with you, we can design, develop, and/or deliver professional micro-credentials that focus on specific skill sets or niche subject areas.
Future-proof your organisation with Kaplan Assessments. Get in touch today to discuss your individual requirements.
What are micro-credentials?
As a shorter and highly specialised qualification, micro-credentials are designed to target a particular skill or knowledge area. Depending on the desired outcome, they can be used as stand-alone modules or stacked to create a larger, customised qualification. This alternative route to qualification enables candidates to demonstrate a broader range of competencies, provided the credential is regulated and a comprehensive assessment framework is in place.
For the professional themselves, micro-credentials are easier to acquire than more traditional forms of assessment and present the opportunity for ongoing professional development, through a tailored approach that suits them. As an organisation, this enables you to address specific skill gaps and make informed hiring decisions, cutting down on onboarding costs in the long run.
Micro-credentials, digital badges, and digital credentials - what is the difference?
Nowadays, professionals need to be able to showcase their qualifications to a wider, digital audience made up of potential employers and professional networks. This both increases their online presence and offers professionals the ability to differentiate themselves in a highly competitive environment. A digital badge does just that. Acting as a visual representation of a micro-credential, these badges are embedded with metadata and can be shared across multiple platforms, making them efficient, effective, and verifiable.
A digital credential is a much broader term that refers to a wide range of qualifications, although it can include digital badges. Beyond micro-credentials, this can be anything from official certificates to licences and diplomas.
What part does micro-credentialing play in CPD?
CPD, short for continuing professional development, is fundamental to the making of a competent professional. In today's fast-paced work environment, the qualification process can only be successful if the right skills and knowledge are being measured - this is informed by the wider context of your sector. In other words, trends can significantly alter the expectations and responsibilities of specific roles.
To ensure roles are performed effectively and to a high standard, you need to upskill your workforce.
Micro-credentialing can act as a portfolio of evidence for CPD, offering a way of demonstrating a commitment to ongoing professional development. It provides professionals with greater agility, enabling them to acquire a diverse and, more importantly, specialised skill set. This can range from something as technical as data analysis or digital skills to subjects with a focus on inclusivity or sustainability. The options are truly endless.
Why micro-credentials are a preferable approach to CPD
Yes, obtaining a professional CPD qualification will improve your employee's performance and enhance your organisation's overall credibility. However, it's equally important to consider what motivates professionals to obtain a certification, as well as the potential barriers to achievement. In short, CPD is more likely to boost productivity and engagement if the qualification is achievable and relevant to the candidate.
With busy schedules and personal circumstances to factor in, a more traditional route to qualification may not be accessible for all.
Nowadays, convenience is key and micro-credentials offer just that.
Timely and responsive skills-building that can be seamlessly applied to day-to-day roles, with the credentials to showcase the candidate's efforts, is far more likely to appeal to modern-day professionals than a longer qualification process. As a bite-sized and focused qualification, micro-credentials can be completed in a shorter period of time. This provides the opportunity to advance in an area of expertise or address a particular skills gap without committing to a full-length programme. Moreover, their modular structure and targeted content create a more personalised experience, with the ability to tailor the process to meet the candidate's individual needs.
At Kaplan Assessments, we specialise in professional, industry-specific qualifications that help your organisation to tackle topical issues, attract potential employees, and form well-rounded professionals.
Stackable credentials - the future of recruitment?
The rising popularity of on-demand learning is paving the way for a flexible approach to qualification. As opposed to a more linear and, arguably, rigid pathway, stackable credentials can be accumulated over time and completed at the candidate's own pace. Their malleability offers a convenient way to demonstrate specific skill sets or competencies, enabling candidates to build their own pathways.
When it comes to the prospect of ongoing development, there are obvious benefits to stackable credentials. The customisation aspect enables professionals to focus on the skills and knowledge that are most relevant to their particular role, removing previous barriers to upskilling. It also allows for incremental progression, with qualifications that can be adapted to evolving industry needs or in-demand competency gaps.
Aside from CPD, what other impacts will stackable credentials have on the future of recruitment? More specifically, how is this new path to qualification set to transform the pre-hire stage?
How Generation Z are embracing alternative methods of qualification attainment
In a tech-dominated world, the digitalisation of training and development has shaped the next generation of prospective employees. As a result, an online portfolio of credentials offers an appealing alternative to formal degrees - previously viewed as the most conventional way to gain a qualification. Having grown up in a highly technological era, it's unsurprising that around 75% of Generation Z have displayed an interest in alternative education methods. Their skill-oriented mindset and advanced digital literacy make them more likely to follow a less rigid approach to qualification attainment. Social media will play a pivotal role in the recognition and promotion of credentials.
Within this shifting landscape, stackable credentials are set to be an important aspect of recruitment - offering employers a tangible and comprehensive snapshot of that candidate's level of competency. Moreover, the shift away from more traditional pre-hire processes has put pressure on organisations to fulfil a new set of expectations. As well as during the recruitment process, this generation is seeking flexibility in all aspects of employment, including within their own job roles.
Embracing stackable credentials as a tool during both the pre-hire stage and as an opportunity for CPD will be critical in attracting and retaining a diverse talent pool.
To better understand how this can be implemented within your organisation, get in touch with our team today.
Why micro-credentials should be essential for high-stakes professions
Whether it's within the financial, legal, or even education sector, it is becoming increasingly important for the skills development of high-stakes professionals to be more targeted in nature.
With a high level of expertise and accountability being demanded within these roles, along with the significant consequences that come with incompetency, professionals must remain agile. Further to this, skill sets will need to continuously evolve. Rather than pursuing lengthy or more generic qualifications, it now makes sense for organisations to offer micro-credentials.
Micro-credentialing in practice
The audit sector presents the perfect example of the need for micro-credentialing to be utilised in CPD, helping to overcome current challenges facing high-stakes professions. Following recent government reform, the role of auditors has been drastically reshaped - fuelled further by wider industry developments. A more diverse skill set is now required, along with additional areas of expertise, such as cybersecurity and data analytics.
So, where do micro-credentials come in? Evolving demands require an innovative solution. As professional roles and responsibilities begin to diversify, the qualification process needs to follow suit.
The solution? An adaptive approach to professional development.
Although CPD is a requirement in many professions, for instance auditors are expected to complete between 20-30 hours a year, the question of its robustness remains. As an organisation, by offering specialised micro-credentials that can be earned relatively quickly, professionals are able to effectively and efficiently demonstrate the acquisition of new skills. That way, your employees will feel empowered to complete the necessary qualifications and your organisation will benefit from a highly competent workforce.
Supporting organisations across multiple industries, our assessment and qualification solutions are designed to address specific competencies and help high-stakes professionals excel in their chosen roles.
Design, develop, and deliver tailored micro-credentials with Kaplan Assessments
88% of industry leaders perceive micro-credentialing as critical for the future of workforce development. In an ever-changing landscape and with role requirements continuing to evolve, how can you ensure that your organisation remains future-proof? Staying ahead of the curve has never been more important. It is no longer about establishing the competencies required for the job but ensuring they are continuously and rigorously assessed.
When it comes to evaluating the unique needs of your workforce, we have a wealth of experience. With our expertise, you can create tailored micro-credentials that align with specific and individual competencies, as well as being adaptable to emerging developments. Each of our qualifications are regulated by Ofqual and registered on the Regulated Qualifications Framework, ensuring the validity and rigour of your micro-credential.
However you choose to approach the qualification process, we will be able to provide valuable insights, including advice on the most appropriate methods of assessment.
Upskill your workforce and raise the professional standards in your sector today. Partner with Kaplan Assessments to design, develop, and deliver a comprehensive micro-credential programme.